SL has not influenced my RL reading only with the Gor saga. In the past days I also read
the Lesser of Two Evils
, by
Zoe Whitten
.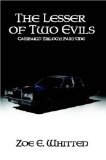 I originally heard Zoe's avatar,
Cora Hawker
reading parts of her book live in SL, in that wonderful place that is
Milkwood
.
That was over one year ago, and since then she is missed very much, because she had quite a talent in reading and in characterizing the voices of the several people in the story.
But her writing talent is not smaller and
I have been considering getting the book and reading the full story ever since. Finally, a few weeks ago I clicked the order from Amazon and I am now very happy to have read it.

It is a great book and the characters, all portraied in different shades of grey, are believable - even if supernatural plays a big part in the story - and easy to care for. In fact, I moved the follow-up,

Trail of Madness

, up the ladder of the books to read, to see what happens next ;)



If you like misteries and a bit of horror this is a fun book to read!

Enjoy

W